Valser
Omløbsvalser

Alveotube fra Roll Concept
Et komplet valseprogram for aluminiumsvalser


Omløbsvalser
Spolevalser
Kølevalser
Valser for fladlægning af folie
Dansevalser
Modtryksvalser
Børstevalser og børstestrækvalser
Gummivalser eller med flere typer coating

Valserørene kan leveres som:


Emnerør, op til 7 meters længde
Valser med aksler og lejer
Valser med ensidigt ophæng (cantilever)
Faste aksler for flangelejer
Præcisionsvalser der er rettede, bearbejdede og balancerede
Køling og opvarmning

Heating and cooling versions

One major interest of the alveolar structure of the ALVEOTUBE® 3RC profiles is the ability to transform easily and simply into a thermal transfer roller.
We realise drilled live shafts, which, once assembled on a machined profile, allow the heating or cooling fluid to pass through the alveolus.

There is no standard for these cooling or heating rollers. We customise the drilled shafts in order to fulfil application needs. The option for thermal transfer exists for ALVEOTUBE® 3RC120, 3RC145, 3RC200 and 3RC230.
The benefits of a thermal transfer roller made from ALVEOTUBE® profiles are:


Excellent thermal transfer thanks to thin skin and aluminium structure
Weight reduction of at least 50% compared to conventional solutions in steel
Low rolling inertia

Schema of flow cirkulation:


Overflader for ALU-valser
Lined versions.

For applications like web traction, calendering, insulation, antistaticlining is one of the most efficient available solutions. There are a number of products rollers can be lined with.

Table below shows main features in order to help choice: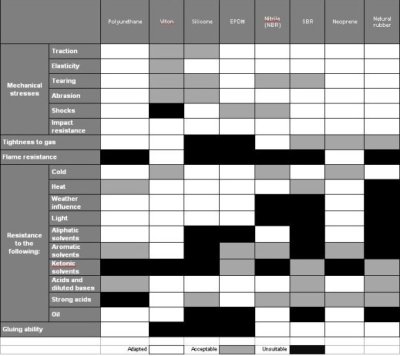 There is no maximum thickness, but best results are when thickness is between 5 and 15mm. The minimum thickness is approximately from 3 to 4mm depending on the product. For almost all products above, the hardness available exists between 25 and 95 Shores A. The tolerance on hardness is 5 Shores A.

Omløbsvalser, filtrør for omløbsvalser
Specialvalser med SM-24 belægning




coating efter opgave
SM-24 belægningen har lavere friktion end teflon
Hårdhed på mere end 2300 Vickers
Ekstremt slidstærk overflade
Ingen mærker i folien